Eye contour, your ally for a dream look
If you still do not use eye contour, you are considering it or you think that it is not really a necessary beauty product, it is better that you read this article... That's right! Get ready to change your mind and run out to buy one.
WHAT YOU SHOULD KNOW ABOUT THE EYE CONTOUR
The skin around the eyes is

5 to 10 times thinner.

It

has fewer sebaceous glands than the rest of the face.

It is an area with less collagen as well.
It is in continuous movement due to blinking, about 10,000 times a day we open and close the eyelids.
For all these reasons, the eye contour requires
special attention and specific products
,
NOT
you can use your
usual
day or night cream
to treat the eye contour area.
And you will say... but why? and this is the next point of this post.
WHY CAN'T

I

USE MY USUAL EYE CREAM

?
Well, because the moisturizing creams that we normally use daily tend to contain more lipids to hydrate the skin well, but this does not go well for your eye contour.
Being such a fine area, it absorbs much more easily what you put on it and in this case, the creams can have the opposite effect to what you want to achieve , they can cause more swelling, bags, etc.
You need specific contouring products that provide firmness and prevent sagging and the proliferation of wrinkles.
FROM WHAT AGE SHOULD I USE EYE CONTOUR?
Its use is indicated from the age of 30, since it is where the signs of skin aging are most evident. This does not mean that you cannot use it before you are 30, on the contrary, the sooner you start using it, the better preserved you will have in this area.
5 TIPS TO TAKE PROPER CARE OF YOUR EYE CONTOUR
1.

USE SPECIFIC PRODUCTS
At Vera & the birds we have formulated a multi-corrector eye contour , which contains Vitamin E, organic Aloe vera, organic jojoba vegetable oil, organic turmeric macerate and vegetable hyaluronic acid. Your perfect ally to keep the zone at bay.
2. THE MAGIC TOUCH
Apply the eye contour very carefully, you already know that it is a sensitive area, it is better to give small touches than to drag the product, so we will avoid sagging.
3. SLEEP WITH THE HEAD ELEVATED
Yes, yes, as you hear it, if you sleep on your back you should know that you may be contributing to increasing those bags and dark circles that are so unsightly, but if you cannot avoid it, at least put on a couple of pillows so that the chin falls a little downwards , pointing towards the neck. And above all, sleep, sleep like there's no tomorrow and since you won't be able to either, at least try to sleep your seven hours.
I leave you a link to a post that we wrote talking about some Tips to help you have a restful sleep , in case you want to take a look at it.
4. SUPER MOUSE
Don't forget to supervitamin yourself and supermineralize yourself Hahahaha!
Every day I understand better this cartoon that I loved when I was little... Eat foods rich in vitamin C, essential to properly maintain this delicate area and of course, hydrate yourself abundantly, drink WATER, as much as you can.
5. REMOVE YOUR MAKEUP
It is always important to wash your face well and remove make-up every day at the end of the day, if you use specific products to remove make-up from your eyes, all the better.
6. FRESQUITO WILL FIT YOU BETTER
Put it in the fridge for a few hours. The cold effect on your skin will multiply its decongestant power.
WHEN SHOULD I APPLY THE EYE CONTOUR?
It is one of the questions that you usually ask us, it is normal, sometimes we do not know the order in which we should apply our facial routine products to get the most out of them. The answer is clear:
Cleaning, essential. Once you have cleaned your face well, if you usually use serum, it will go after cleaning.
Facial oil , day moisturizer or night facial , depending on the time of day you are.
CAN I APPLY THE EYE CONTOUR AT NIGHT?
In fact you must! You should always use the eye contour, both during the day when you get up and clean yourself and at night before going to bed. Remember that the eye contour is a very specific product for a very delicate area, the more you take care of it, the better it will look.
How are you? Do you feel the irrepressible need to get an eye contour? It is important to take care of this area, do not forget it.
If you want to leave a comment we will be happy to hear from you.
A little kiss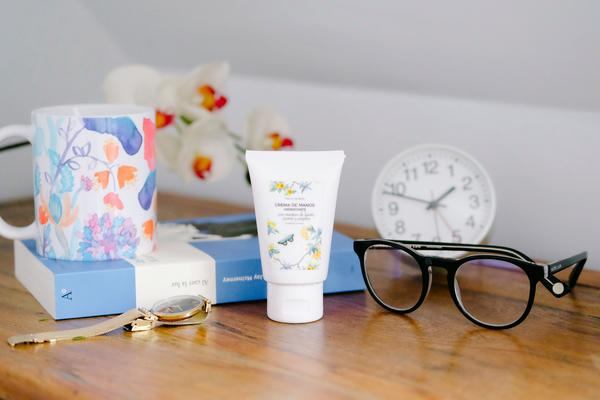 It's Thursday. It's only been four days since the weekend but you have the impression that you haven't slept since Christmas. Each day seems to accumulate with the next to form a huge ball of s...
Read more