TIME TO BLOOM HANDMADE SCENTED CANDLE
Sale price

16.50€
Regular price

16.50€
(/)
Specially inspired and created to be enjoyed at the time of the skincare and makeup routine, the Time to bloom Handmade scented Candle collects all the essence of Vera & the birds, taking care of even the smallest detail. From the floral and powdery heart of it warm fruity notes emerge that remind us of sensual summer nights. Wild jasmine, nutmeg, sweet peach and the scent of grass after a rainy day bring this sweet, vibrant and sophisticated candle to life.

Made with the greatest care under artisanal manufacture, under the vegan philosophy and respect for the environment.

Don't forget to match our illustrated matches!

230g | Vegan | Crystal glass with illustrated label | +/- 50 hours of use



WHY YOU WILL LOVE IT!

◦ Sweet, vibrant and sophisticated aroma. Thanks to its combination of jasmine, nutmeg and peach, you will enjoy a pleasant experience that you will not forget for a long time.

◦ Proudly vegan. This aromatic candle will perfume your home for hours, free of animal products. Made with high quality vegetable wax, making it a 100% vegan product.

◦ High quality cotton wick. This type of wick guarantees a unique experience, minimizing smoke emission.

◦ 100% sustainable material. Made with completely sustainable material, this fantastic candle will give you great moments of peace and well-being, respecting the environment.
OLFACTORY NOTES

◦ Top Notes: herbal, orange, fruity, spicy.
◦ Body Notes : sweet peach, lemon, nutmeg and wild jasmine.
◦ Base Notes: soft woody, cedar, musk.

None of its ingredients are of animal origin.
HOW TO USE IT

For the first use , leave the candle burning for two hours , until all the wax on the surface has become liquid. Doing this prevents a tunnel from forming around the cotton wick. Trim the wick regularly (ideal length between 0.5cm and 0.75cm) to prevent it from making smoke. When you blow out the candle, check to see that the wick is upright and centered. This will ensure that the candle burns evenly to the bottom of the glass. Light the candle for between thirty minutes and two hours for a perfect burn.

Candles produce a live flame, so it is necessary to take care of them and take into account the following instructions :

◦ Remove from the box before lighting the candle.

◦ Never leave a burning candle unattended.

◦ Burn candles out of the reach of children and/or pets.

◦ Do not place the candles too close together, always leave a minimum distance of 15cm between the lit candles.

◦ Do not light candles on or near any flammable element or other surface that emits heat.

◦ Residues and wax stains on fabric come off easily with the help of a hot iron and blotting paper. The latter absorbs the wax when heated.

◦ Keep the wick with a length of 0.7 to 1.0 cm. This is the optimal length of the wick. A wick that is too long produces soot.

◦ Make sure that every time you light a candle, the wick is that length. Cut it out with scissors if necessary. This way, the candle will burn cleanly without producing smoke. If charcoal builds up, remove it before lighting the candle.

◦ Always light the candles for a minimum of 45 minutes and a maximum of 3 hours for good combustion.

◦ Always leave the candle clean of bits of wick, matches or carbon. This could create a second flame capable of causing a second combustion or fire risk.
SHIPPING INFO

Peninsula: € 3.50 | Free from € 29

Balearic Islands: € 7.50 | Free from € 39

Portugal: € 8.50 or € 11.00 (depending on weight)


Rest of Europe: according to destination (home delivery)


All orders are shipped in our illustrated box, except for print orders.

IMPORTANT: delivery time may be affected in times of high sales volume (Black Friday, Christmas or promotions) or special situations.
TIME TO BLOOM HANDMADE SCENTED CANDLE
Sale price

16.50€
Regular price

16.50€
Choose options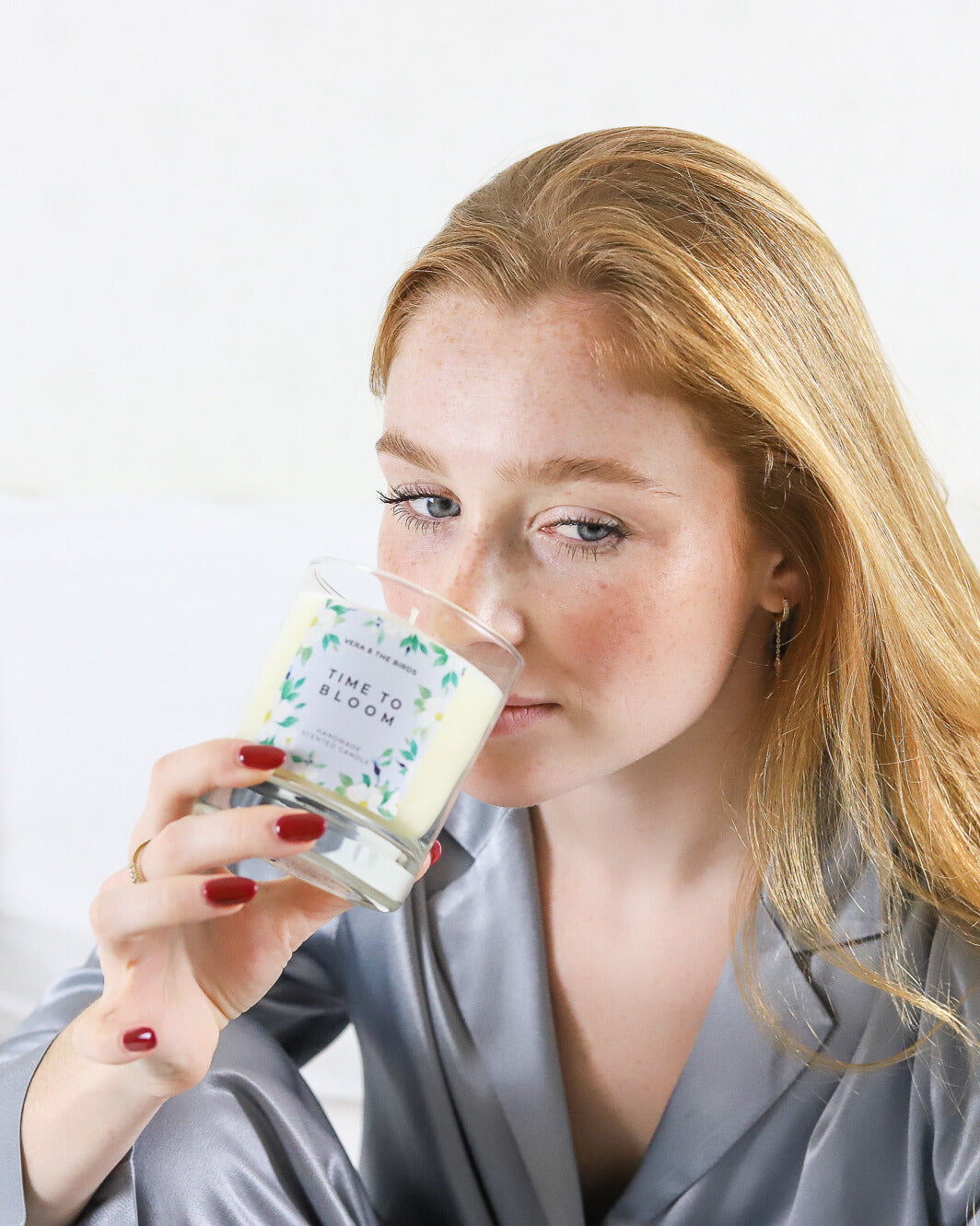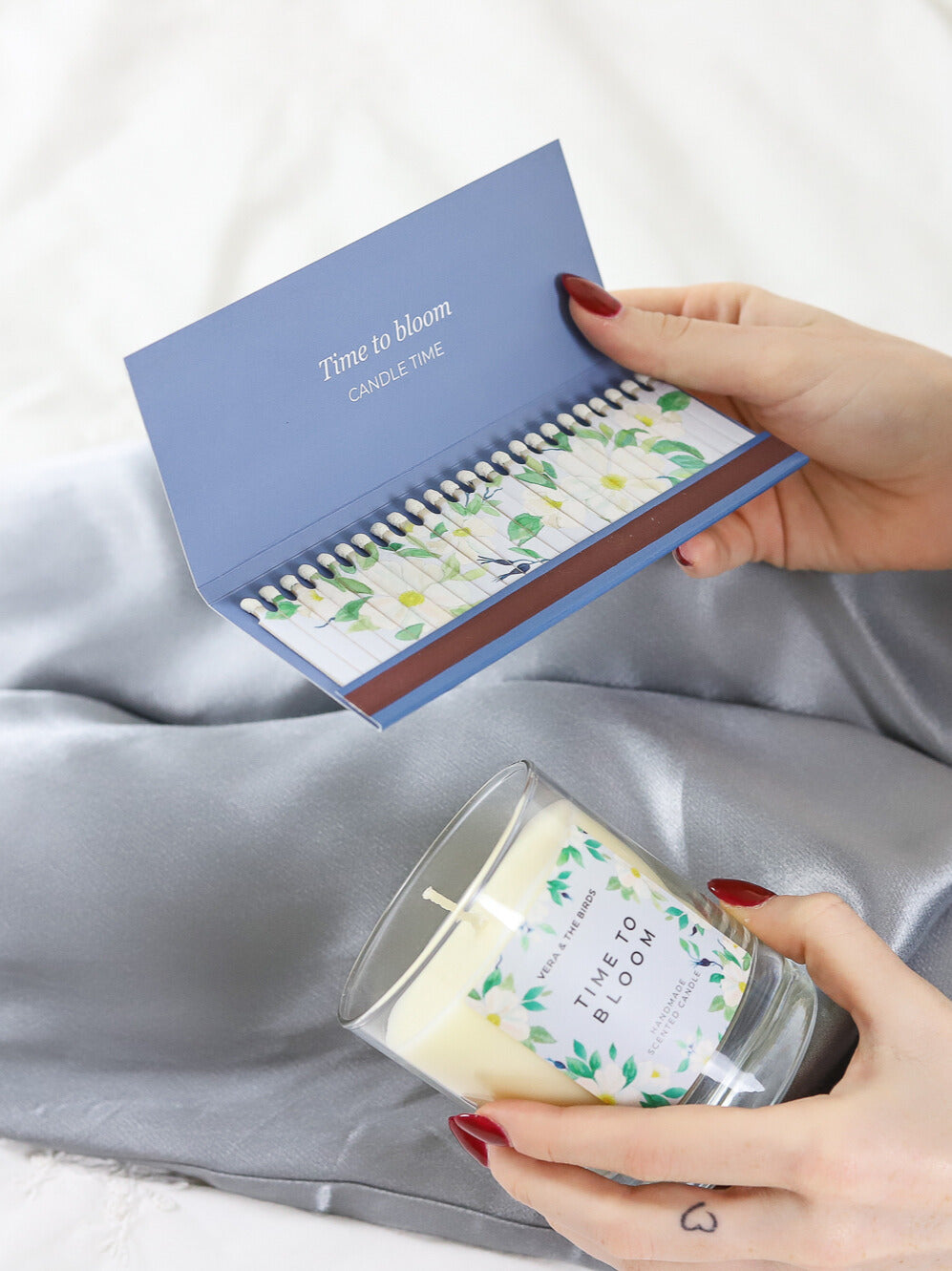 HOUSE BRAND
Candles play an essential role in providing warmth to your home. Time to bloom not only sets the mood with its light, but also perfumes with a fresh and enveloping aroma, the new hallmark of your home.