New pro reusable make-up remover pads: take care of your skin and the environment
Welcome to the Pro Reusable Makeup Remover Pads - our new fluffy pro reusable makeup remover pads . These aim to give a sensory, pleasant and pleasant experience in your facial routine. Made with the best materials, these reusable pads from Vera & the birds proclaim themselves to be the softest in the family.
100% cotton outer fabric
12 cm diameter to remove make-up from the entire face
235g terry quality for unique softness
Satin strap for a better experience
Organza bag with two pro discs
Thanks to the nature of these materials, you can perform a more pro facial routine with your micellar gel or cleansing mousse . In addition, the great point in favor of these reusable makeup remover discs is that they have about 1,000 life uses . With a single product you will be able to elevate your facial routine, take care of the environment and your pocket. A three in one!
Once again, we are committed to carrying out sustainable evolution and growth, in tune with nature. This is why we continue to offer products that fit the values ​​and objectives of Vera & the birds. We want to continue reducing our environmental impact , our ecological footprint, and to do so, we will continue working as we have been doing up to now.
If we take into account that we use about two single-use make-up remover pads per day, we will be creating a waste of up to more than 730 cotton pads per year . With our Pro Reusable Makeup Remover Pads we want to offer you a unique experience, without giving up continuing to take care of our environment.
Our commitment to the planet
At Vera & the birds we are taking more and more steps towards sustainability. You already know that all our formulas are biodegradable and all our packaging is eco-friendly or recyclable . We work every day to take a step further on the path towards sustainability
For example, have you seen that now our bags are made of at least 70% recycled plastic ? We have also designed different sizes for our boxes. How many times have you ordered from a web page and found yourself with a huge box for a very small item? We don't want that.
We are committed to reducing our waste as much as possible and, precisely for this reason, we already have different sizes for our decorative boxes. In addition, the inks of our packaging are low migration vegetables. These are some of the small gestures that are forming part of our idea of ​​sustainability .
On the other hand, we continue working on our line of solid cosmetics , growing to achieve our own zero waste goals. We know that it is not an easy path, but we do not mind working very hard every day to continue offering quality products that coexist in harmony with planet Earth.
Very recently we launched our first makeup collection naturally and proudly vegan , sustainable with the environment. We look to the horizon with hope and a great desire to continue growing with you, valuing every little corner of this planet.
What new ecofriendly steps would you like to start seeing in Vera & the birds? We read you!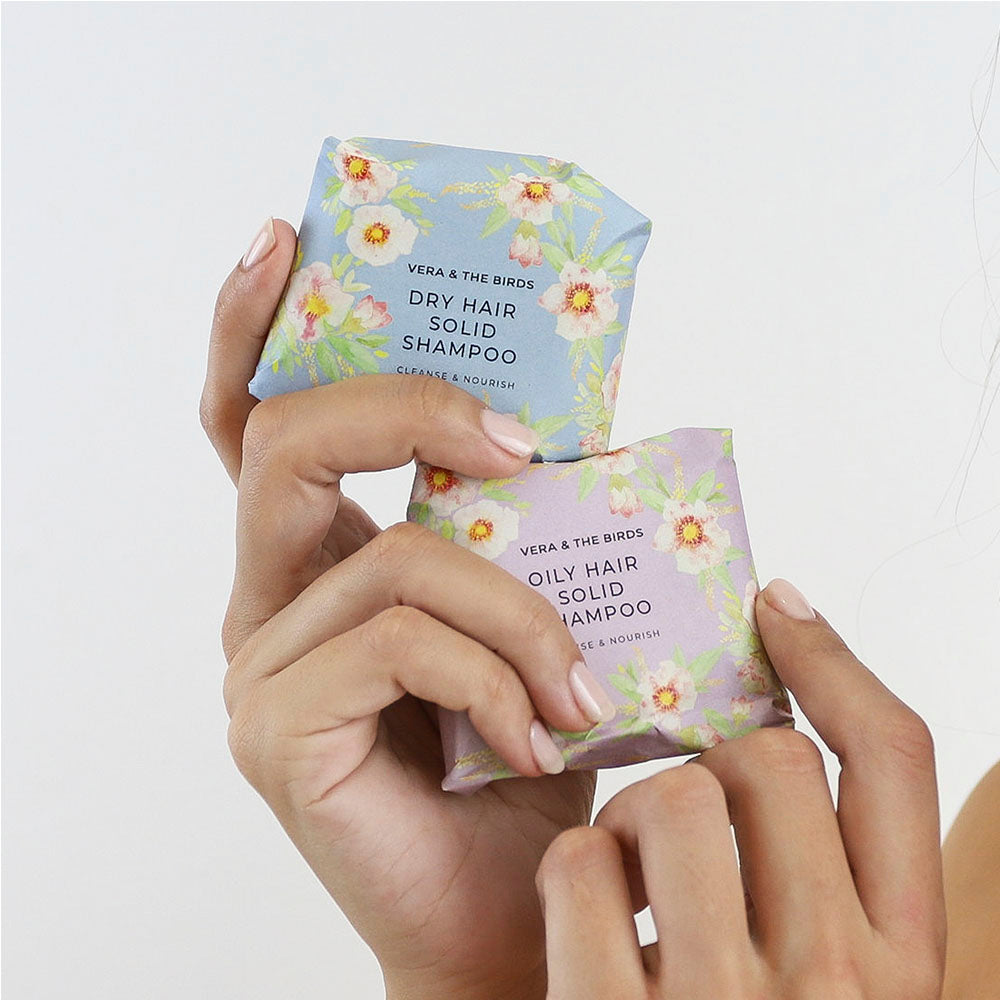 We like simple, effective things that help the planet. Deciding to launch a line of solid shampoos , more than a decision, we feel like a duty. A duty towards the environment and the values ​​in...
Read more