8 mini plans to do this Christmas
Take advantage of the days off during these holidays to do those things that allow you to get off the frenetic rhythm and reconnect with yourself (and with your loved ones). Here we leave you some proposals
1. In a highly impersonal world, receiving a Christmas card is a treat (and a rarity). So to help you resume this healthy habit , I have posted a postcard with the illustration of the deer made in watercolor by me, so that you can download it (for free, of course ), print it on thick paper and give it to whoever you want.
2. Cook something delicious . It doesn't have to be the whole Christmas Eve menu, try making a tasty appetizer or baking a loaf of homemade bread . Are there children at home? Include them in the preparation of the recipe with simple steps that are not risky. Take a look at the Instagram profiles of La gloria vegana , Oh Mami blue and Delicious Martha , they are our favourites! Preparing something rich and tasty for others unites us, comforts us and makes us enjoy the slow process and share a good moment. They say that cooking is an act of love for a reason.
Image: Pinterest
3. Make your own Christmas decoration . Pinterest is full of complicated DIY but in reality with everyday objects that you have at home you can do wonders. Dried citrus, raffia strings, eucalyptus branches. Go to our pinterest board to fill yourself with more ideas.
4. Start or continue the hobby you want. Take advantage of the free time that vacations give you to resume those habits that make you happy . Do you dare to paint? Coloring without any pretense has great benefits: it reduces anxiety , improves concertation and increases our creativity. Our coloring book for adults contains beautiful illustrations - like those of your cosmetics - that you can color both with watercolors and with colored pencils or crayons.
5. Hug . A hug loaded with love = good serotonin. At Christmas and always.
6. Make your own Christmas wreath . They add a wild touch to your home and they smell wonderful. We have found a tutorial here that seems very easy to do. If you dare to try it, tell us! We have customized a star with little things that we had around the studio, as a crown, inspiring you in this one that we leave you here:
Image: Pinterest
7. Listen to a Playlist of Christmas music on a loop, but the cool one. Here you have our suggestion . They are great songs that put you in Christmas mode in a flash.
8. Support a charitable cause . It may sound like a cliché but when you give, it is returned to you fivefold. We leave you several proposals: Aladina Foundation , Anar Foundation , Theodora Foundation .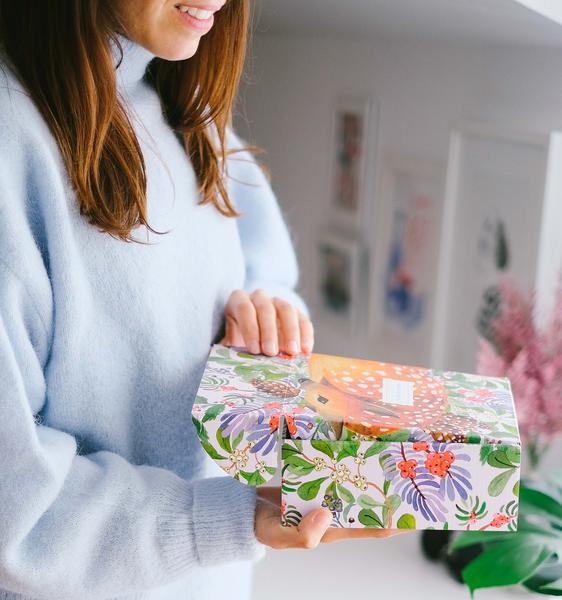 Who are you going to surprise this Christmas? Getting the gifts right will be a piece of cake if you are first clear about the tastes and habits of that favorite person . Put yourself in her (o...
Read more
Isolation is hard, so to try to help us cope with it better, we leave you here some beautiful coloring sheets , so that you can download them completely free of charge and paint them, alone or wi...
Read more